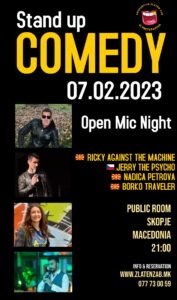 STAND UP COMEDY EVENING
Open Mic - An invitation to all those who have something comical to say, in front of an audience, on a microphone
Entrance is free
ARTIST: RICKY AGAINST THE MACHINE...he says everyone knows him like that... or not...
A lost rocker soul looking for true love through that matchmaking app.
A rocker in an eternal illusion who does not live his rocker's imagined life for X reasons, poor in every field, chauvinistic and full of prejudices about marriage!
To marry or not? The question is now!
ARTIST: JERRY THE PSYCHO
From Prague, Czech Republic.
He performed in famous stand up clubs in his country such as Velvet Comedy Club, Metro Comedy and Manifesto Stand Up Nights.
His humor is sarcastic, arrogant and anti-social.
He wants to accurately point out the irony in today's world and using dark themes.
ARTIST: NADICA PETROVA
Through this performance, the actress approaches us very sincerely and introduces us to the problems of a female member of this society.
The imposed ideas and values, as well as the cruel struggle for one's own choice, which result in injustice, she presents on the wallpaper and skilfully ironizes them.
HOST: BORKO TRAVELER
He worked as a physiotherapist, soccer referee, beach lifeguard, Latin dancer, yoga, Zumba and fitness instructor, studied martial arts and became a sports psychologist.
Traveling is what makes him happy, so he travels all over the world.
He recorded more than 4,000 videos in different world destinations which he presented on TV screens.