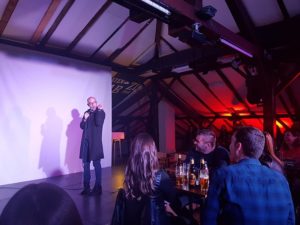 English Language Comedy Night
Come laugh along with a performer selected by prestigious, global comedy arts festivals: with appearances including Just for Laughs festival in Montreal, JFL42 in Toronto, Sketch Fest in San Francisco, KLICfest in Malaysia, UICF in Utrecht, Netherlands, the Bengaluru Comedy Festival in India, and others.
It's an show of internationally-minded stand up comedy performed in over 250 cities across more than 40 countries.
A persistent foil to his own ideas, he offers up a studied cross-examination of his experiences as he hilariously tackles the underlying goal of this show: to dismiss the equation "familiar equals good."
Ticket: 200 mkd