HAZIM MUJCINOVIC
Hazim Mujcinovic is an actor, stand-up comedian, radio and television host and showman.
Born on 31.05. In 1977 in Vlasenica (BiH), he lived in Tuzla.
Graduated actor.
TV and radio host (for more than 10 years, host of TV and radio media, morning host of "Morning for All" - BHRT and radio host and editor of the morning show on Radio Chameleon - Radio Morning with Hazim).
Actor and executive producer at the Cabare Tuzla Theater (responsible for festivals and plays).
Works as a producer at the Bosnian Cultural Center (BCC) - Tuzla Canton. Film and TV actor in: TV series:
- "Crazy, confused, normal" (2011)
- "We are two different worlds" (2011)
- "Head through the wall" (2016)
- The Love of Books: A Sarajevo Story (2011). Producer and stand-up artist (more than 7 years) in "Stand-up comedy produced in Bosnia".
Father of two beautiful children - a boy 10 years old. and a girl 3 years old, husband of a one woman :)
Actor by birth, dedication, profession, degree and desire.
A stubborn Bosnian who wanted, wanted and became an actor, and then the world turned into a porn industry.
What is it like to be a Bosnian among Bosnians? Bosnian in the rest of the world? What is it like to be an actor among other professions? How are movies made? Until when will the series "Crazy, Confused, Normal" be filmed? What is it like to be a porn actor? When do Bosnians go to sea? Why does Croatia have the best national team and Bosnia and Herzegovina the best fans? 1000 why and 1000 why you will find out in his stand-up show in - LIFE IS A CIRKUS - Skopje.
ANA ZLATANOVIC is originally from Obrenovac.
She has a very colorful family and is ready to talk about them.
She graduated from the Faculty of Security and a master's degree at the same.
In her life she was everything - she defended Serbia from terrorism as an operator of the counter-diversion control at the airport Nikola Tesla, she listened to the complaints of the users in the call center, she worked with tourists at sea ...
2013 started with stand up.
JELENA MANDARIC is from Alibunar and a laboratory assistant by profession.
She started her stand-up career in Zagreb. She tries to point out all the comic elements to the detriment of her character, appearance, idiosyncratic features of her whole personality.
You have to be very strong for this kind of humor and Mandaric is as strong as a rock!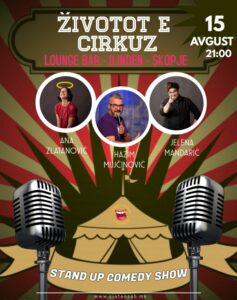 SPECIAL THANKS to: HOTEL-RESTAURANT TOMCE SOFKA 070 396 476 SKOPJE