NEW YEAR'S LIVE STAND UP WITH WOMEN WHO TALK
The best way to start the new year is to laugh. And these three women will make you laugh on different topics such as: love, work, children, male-female relationships, female-female relationships, soft drugs, difficult year ...
Tickets are limited (150), at a price of 2.5 euros in pre sale and 3.5 euros on the day of the event. Replay Access until 08.01.21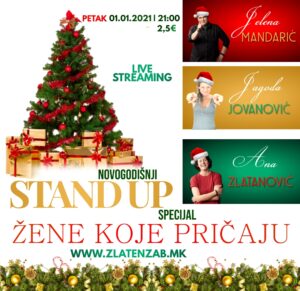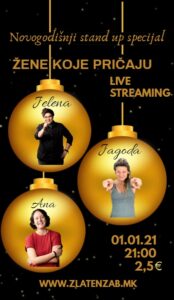 ZKP
Three women. 10 years of comedy experience. 100 years of vicious life. And they still stand. And they talk.
Jelena Mandaric:
Jelena is from Alibunar and is a laboratory assistant by profession. She started her stand-up career in Zagreb and tries to point out all the comic elements to the detriment of her character, appearance, idiosyncratic characteristics of her entire personality. You have to be very strong for this kind of humor, and Mandaric is strong as a rock!
Jagoda Jovanovic:
Jagoda deeply believes that the world would be a better place if all people took more drugs and had sex. Her life is her message. Prior to stand-up, she represented her country as a young diplomat in Mexico and Vienna. On this occasion, she would like to thank everyone who, by paying taxes regularly to the state, enabled  her to have a good time there. Her greatest life achievement is her husband, who is five years younger.
Ana Zlatanovic:
Ana is originally from Obrenovac. She has a very colorful family and is ready to talk about them. She graduated from the Faculty of Security and has a master's degree. In her life, she defended Serbia from terrorism as an operator of counter diversion control at Nikola Tesla Airport, listened to user complaints in the call center, worked with tourists at sea ... In 2013, she started with stand-up. She wrote 2 books (the first under the pseudonym Kaja Vidić).