HOST: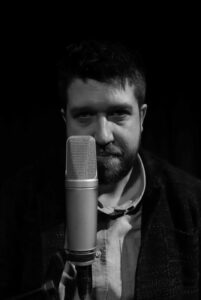 MARJAN GEORGIEVSKI  is an actor, stand-up comedian and director who drinks his morning coffee until afternoon.
Do not touch me -is his morning blessing to the others.
He is a book buyer and hopes to read them all until the end of his life.
He drinks beer without appetizers, watches series, between a stupid movie and a deep sleep he always chooses the second.
He opens social networks - he curses / hates / he is sick of it.
He watches TV - he swears / hates / he is sick of it.
He likes to swear / hate  with other swearers in the company. This makes hings better.
In order not to be a self-proclaimed analyst of psychology, he studies psychology.
He intends to do psychotherapy based on swearing, hating and laughing.
He is determined to immunize himself from stupidity by reading good literature every day and believes that his body reacts with sarcasm when he meets supporters of primitivism.
He is the father of a minor and a participant in a marital status.
He moves on the board between fantasy, and reality bites it to the bone.
GOLD TOOTH COMEDY ROOM  is the place where we can be real, funny, hard core brutal, without mask, without disinfecting the truth.
Debate in the right way, only with comedians, people who have decided to see their lives through the visor of the bright side.
We are interested only in humor - the rest is painful and pathetic.
Welcome to the GOLD TOOTH COMEDY ROOM
GUEST:
A pioneer and veteran of the domestic stand-up comedy scene, the initiator of the regional network and our most internationally active comedian. In his career, which began in 2005, he toured 30 countries and hundreds of cities. For his work in 2014, at the Adria Comedy Awards, he received the award for the best veteran.
As a producer, he led the first Zagreb stand-up comedy group ALL 5 (2007-2008), and today it is the production of standing Comedy, which is behind the first domestic stand-up comedy video production Stand Up Show (2009), and then the first regional DVD release: Standing Comedy /… in Skopje (2011); to be followed in 2015 by the regional television series Standing Comedy 3 in 1, which found its place in the program of the first regional comedy TV channel HA HA.
He was the producer of the first national stand-up comedy tours in Croatia (2009) and BiH (2011) and the first regional stand-up tour with his geographical-biographical play Standing Comedy* (2012). Touring the former Yugoslavia is his specialty, and according to a colleague, "he performed wherever there is a light bulb, and by God, a candle!".
In addition, he is the first regional stand-up comedian to perform at an international competition - the Seattle International Comedy Competition in 2012, and in 2016 he entered the finals of The Funniest Person in the World in Helsinki. His performances in English still find their place in the program of the television channel Comedy Central Extra.
Pedja Bajovic admits the fact that it is better to be right than to be the first. Still, he likes to say loud and clear to everyone, "Whatever, I was the first!"
His work to date has resulted in three thematic performances: Standing Comedy* (* A remedy for against Yugonostalgia and Yugophobia); MALE (about mating and reproduction); Expire date, as well as the first all-night special of one of our stand-up comedians in English - THE BALKAN BRAIN, which recently received its own video format.
Although his eyes (with all the glasses) are always wide open and his throat is ready for loud barking, while his finger is just waiting for him to point at someone or something, he usually falls on himself. He does not forgive anyone, least of all himself! Husband, father of two kids, with a home loan and an old car and somewhat finished schools… are happy circumstances that make his stand-up about himself so close to many. Pedja loves politics, but not daily, but more seasonal, from election to election! And everything, it is known, is a matter of choice…
He's probably not the most potent, but he's certainly the most overbearing stand-up comedian in this part of the world. He loves himself or himself very much. He has cvike, so he thinks he's smart. He wears a tie, so he thinks he has style. He holds the microphone, so he thinks he's a hottie. And, worst of all, he thinks - to think!