HOST: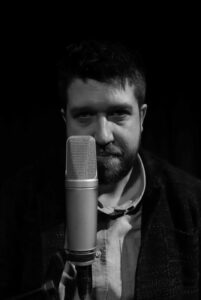 MARJAN GEORGIEVSKI  is an actor, stand-up comedian and director who drinks his morning coffee until afternoon.
Do not touch me -is his morning blessing to the others.
He is a book buyer and hopes to read them all until the end of his life.
He drinks beer without appetizers, watches series, between a stupid movie and a deep sleep he always chooses the second.
He opens social networks - he curses / hates / he is sick of it.
He watches TV - he swears / hates / he is sick of it.
He likes to swear / hate  with other swearers in the company. This makes hings better.
In order not to be a self-proclaimed analyst of psychology, he studies psychology.
He intends to do psychotherapy based on swearing, hating and laughing.
He is determined to immunize himself from stupidity by reading good literature every day and believes that his body reacts with sarcasm when he meets supporters of primitivism.
He is the father of a minor and a participant in a marital status.
He moves on the board between fantasy, and reality bites it to the bone.
GOLD TOOTH COMEDY ROOM  is the place where we can be real, funny, hard core brutal, without mask, without disinfecting the truth.
Debate in the right way, only with comedians, people who have decided to see their lives through the visor of the bright side.
We are interested only in humor - the rest is painful and pathetic.
Welcome to the GOLD TOOTH COMEDY ROOM
GUEST: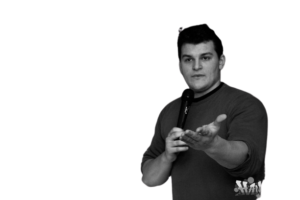 GORAN VINCIC
Originates from Mirkovci near Vinkovci.
Philosophy student (incorrigible romantic, hyper-active and extravagant).
He lives and works in Zagreb.
He has been training karate for 20 years. He is a holder of the black belt 2. Dan and is the coach of the Karate Club "Tempo". Master in karate (although he does not even know how to change a light bulb at home).
He also practices boxing, wrestling and mixed martial arts - he fought in the MMA cadre, but he does not like violence.
From an early age he visited drama groups, played in various plays such as: "AND WHO ARE YOU?" at the EHO drama studio directed by Svetlana Patafte.
After the death of the most famous comedian Robin Williams, he decided to deal with stand-up.
It started with open mic performances. 4 years ago he had his first stand-up show "Duty Guilty". He has been doing stand-up comedy for 7 years. Says: Standup is always useful to talk about forbidden things. Apart from clubs, he also performed at weddings, birthdays and girls' dinners. He acted as a registrar at a wedding, a police officer at a birthday party and then performed. One of his worst performances was in a nursing home. Most often he opens the evenings for stand-up comedy (breaks the ice) and they say that he would create a great atmosphere in the cemetery as well.
Recites poetry, hosts various programs, quizzes and animations.
He is the frontman of the group "Hladovina", a band that is still looking for its style.
Knows how to avoid tram control and good crochet.
On June 9, 2020. became Zoran's father.
He is afraid of snakes.
His hobbies are eating fast food and watching Youtube videos and daydreaming.
He loves burek and his wife the most. He is a big gourmet, he likes to cook, but he does not like to wash dishes.He loves everything except mushrooms.