HOST: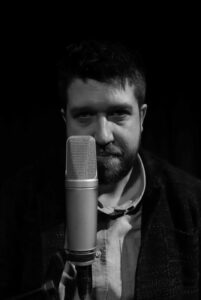 MARJAN GEORGIEVSKI is an actor, stand-up comedian and director who drinks his morning coffee until afternoon.
Do not touch me -is his morning blessing to the others.
He is a book buyer and hopes to read them all until the end of his life.
He drinks beer without appetizers, watches series, between a stupid movie and a deep sleep he always chooses the second.
He opens social networks - he curses / hates / he is sick of it.
He watches TV - he swears / hates / he is sick of it.
He likes to swear / hate  with other swearers in the company. This makes hings better.
In order not to be a self-proclaimed analyst of psychology, he studies psychology.
He intends to do psychotherapy based on swearing, hating and laughing.
He is determined to immunize himself from stupidity by reading good literature every day and believes that his body reacts with sarcasm when he meets supporters of primitivism.
He is the father of a minor and a participant in a marital status.
He moves on the board between fantasy, and reality bites it to the bone.
GOLD TOOTH COMEDY ROOM  is the place where we can be real, funny, hard core brutal, without mask, without disinfecting the truth.
Debate in the right way, only with comedians, people who have decided to see their lives through the visor of the bright side.
We are interested only in humor - the rest is painful and pathetic.
Welcome to the GOLD TOOTH COMEDY ROOM
ANDREJ TEZAK TESHKY is a comedian who has been present on the stage, behind it, under it and around it since the first day of stand-up comedy in Slovenia. One of the pioneers of Slovenian stand-up comedy, host of plays and all possible events. Together with his colleague Tin Vodopivec, he is organizing the first "PANCH" international stand-up comedy festival, in which 5 comedians perform every day for 6 days, with a huge attendance from the audience. He is the coordinator of all the dinners, the master of atmosphere and communication with the audience. The festival has existed for 14 years. and is especially proud of him, as of his own child.
He likes to joke about his choice to be a vegetarian, the managerial profession and the people he works with every day, and his humor is often on the border with black humor, direct, picky, sarcastic, critical and without brakes. He will surely seduce you with his intelligent humor.
He is the owner of his own stand-up club called "10" (the only one in Slovenia), where comedians perform three times a week with their stand-up performances and improv comedy, a place for making new comedians and where new jokes are created.
He is also a co-founder of the popular stand-up club "Studio smjeha" in Zagreb together with Marina Orsag.
He is especially proud of the workshops he leads for training and education of young comedians ("PANCH Academy"). We can conclude that Teshki is a very proud man :)
He has always had a managerial line, starting with the bands in which he played (guitar and drums): "Fu Inle", "Kajmak", "Bobnars United", the duo that grew into a quartet and later into a sextet "Elephant and Sadegh R Н'Р ". Starting modestly with lesser known bands like "Anavrin", "Tha Flov", "Zick Cack" to stars like "Big Foot Mama", "Magnifico" and others.
It also produces music festivals starting from "Radar" (Zagreb and Varazdin), "LENT" in Maribor, "Beer and Flowers" in Lasko, "Castle" festival on the river Kolpa, Reggae festival "Overjem" in Tolmin (Slovenia ) .. learning to make and lose money;)
He is a manager of the groups SARS, Brkovi, EMKEY ... and has worked with Dubioza Kolektiv for a long time.
He often comes to Skopje, Macedonia, collaborates with Login Kochishki from Password Production (2 years ago he participated in the PIN conference) and with the production Golden Tooth (realizing the project Stand Up Marathoner).
6 years ago. started running ... quite by accident sitting on the couch at home decided that from that day he will be an ultramarathoner :) and without any preparation he ran 13 km. competing in "Wings for Life" (2014) Runs 160km and more every year.
He decided to combine stand-up comedy, running and humanitarian (because he is one of those who want to leave a mark among people and have a goal in front of him) by making the STANDAP MARATHON project (writing a blog about it):
The first year Teshki and his colleagues covered 600 km in 10 days and together with his fellow comedians made 30 Slovenian cities laugh.
In the second project, 33 Slovenian mountain peaks visited and laughed mountaineers in 33 mountain huts for 33 days. He chose the mountains in which there is ecology, recreation, active life for decades ...
In the third project, he organized a sports and charity event that covered all the capitals of the former Yugoslav republics, where the comedian on the Slovenian stand-up scene, comedian and ultramarathoner Andrej Teжаak Teshki with his fellow comedians laughed at the local language. without parents (and socially vulnerable categories). That year, the route was the longest from Ljubljana to Skopje in sneakers, ran 1,600 km and raised a total of 10,000 euros for children.
He has a new idea again, to run the longest road that can be walked in the world, from Cape Town in South Africa to Kamchatka in Russia ... all together 28,000 km
He owns (with friends) land on one of the Indonesian islands
Completed studies (comedy management) in the UK at the University of the Arts in Leicester.